Description
SHOOTVILLA
MOTORIZED CURVE 120° SLIDER

YOUR FAVOURITE CURVE SLIDER NOW WITH MOTION CONTROL SYSTEM!
Curve 120 degree NOW MOTORIZED with some UNIQUE features. In most of the motorized sliders there is problem of shaking at the time of stopping the Camera Sliding plate, To solve this problem Shootvilla added another feature in Remote of "FINE ADJUSTMENT" which we can adjust according to our requirement and can help you to take jerk free shots anytime. One of the important feature of the motorized plate is that it is compatible with every slider of Shootvilla Linear as well as Curve ones.  Unconquerable smoothness helps you to take shot more effectively. The design of the tracks is so designed to make them lighter but strong enough to bear heavy cameras. Adjustable legs level your slider properly. Dual bearings on each wheel keep the movement smooth and steady on curved track.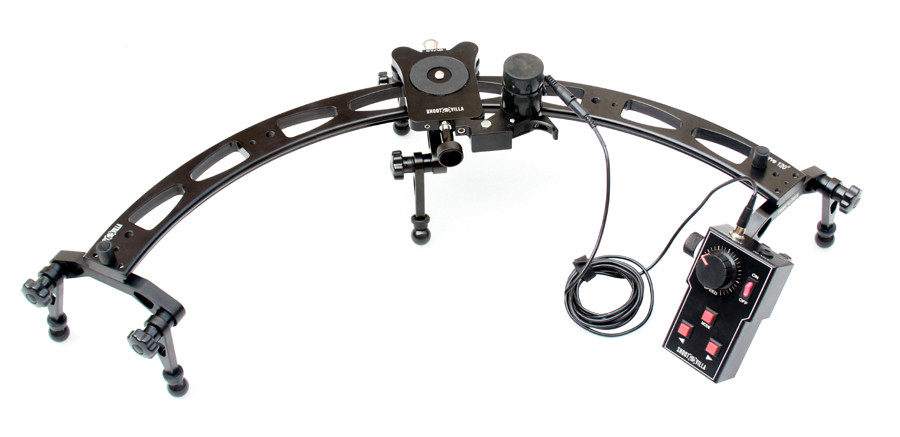 WHAT'S IN THE BOX
Shootvilla 120° Curve slider
Motion Control System
3 x feet
Carrying Bag
FEATURES of Curve Slider
Easy installation and easy to use
Motor of 30RPM
In addition to speed controller in remote another SIDE CONTROLLER SYSTEM i.e. FINE ADJUSTMENT IS PROVIDED FOR JERK FREE OPERATION.
High grade Aluminium used for construction
Versatility of the product lets you capture from every angle
Can be used with or without motor.
Fold able and removable legs
Smooth functioning with the curve
Can be used grounded as well as on tripod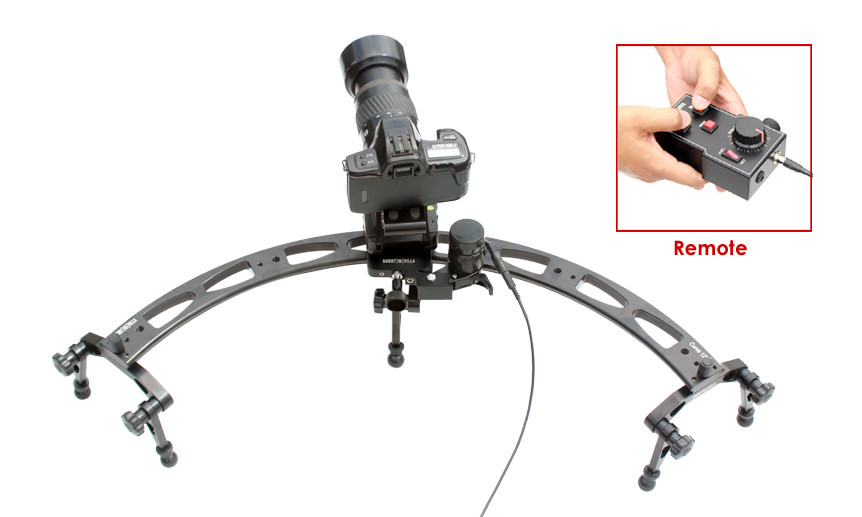 SPECIFICATION OF CURVE SLIDER
Construction                                                              : Aluminium
 Product weight                                                         : 2 kg
 Load capacity with Motion control                      : 5 kg easily
Load Capacity without Motion Control                : 10kg
Angle of curve Slider                                                 :  120 degrees
Battery Back up                                                         : 12V 1hour approx.
Tripod mounting thread                                         :  1/4" & 3/8"
Travelling Area                                                          :  800 mm/ 2.62 ft
SPECIFICATIONS OF MOTION CONTROL SYSTEM:
Load Capacity:                                                          : 5kg/11lb
Product weight:                                                        : 3.5lb
Max speed with Curve 120 slider                          : 16Sec
Min Speed with Curve 120 slider                          : 2min 63Sec
Battery Backup                                                         :  1hr
Geared Motor                                                           :30RPM
Construction                                                            : Aluminium
CAMERA SLIDING PLATE
Sliding plate has a 1/4"-20  as well as 3/8" Screws that fits almost all types of cameras. Carriage glides effortlessly using high-end sealed bearings for extra smooth shots and Precision motor proves smooth incremental movements.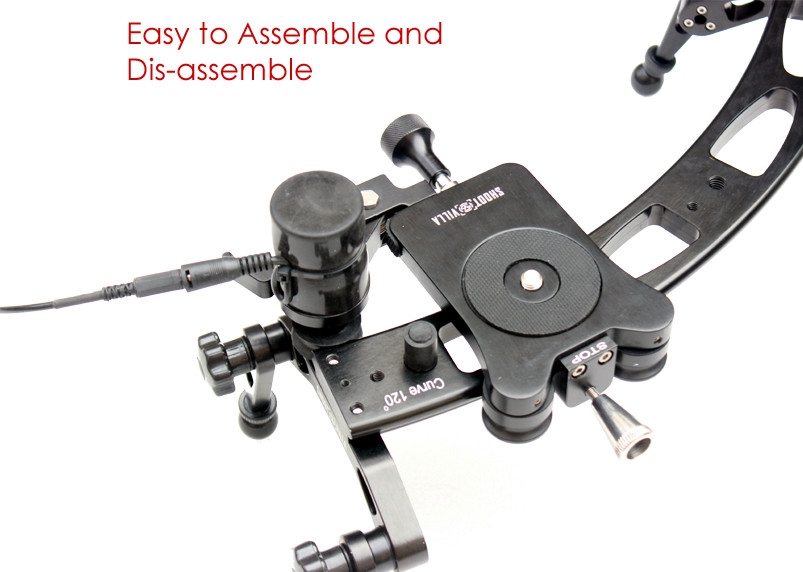 CURVE TRACK:
 With various tripod mounting options Curve track can be mounted on any tripod or can be used grounded with 3 feet. Track is made of high aluminium with black anodizing and the surface is so smooth that sliding plate just floats on it.
MOTION CONTROL SYSTEM:
Precision 30RPM motor with excellent back up of about 1hr for smooth movements.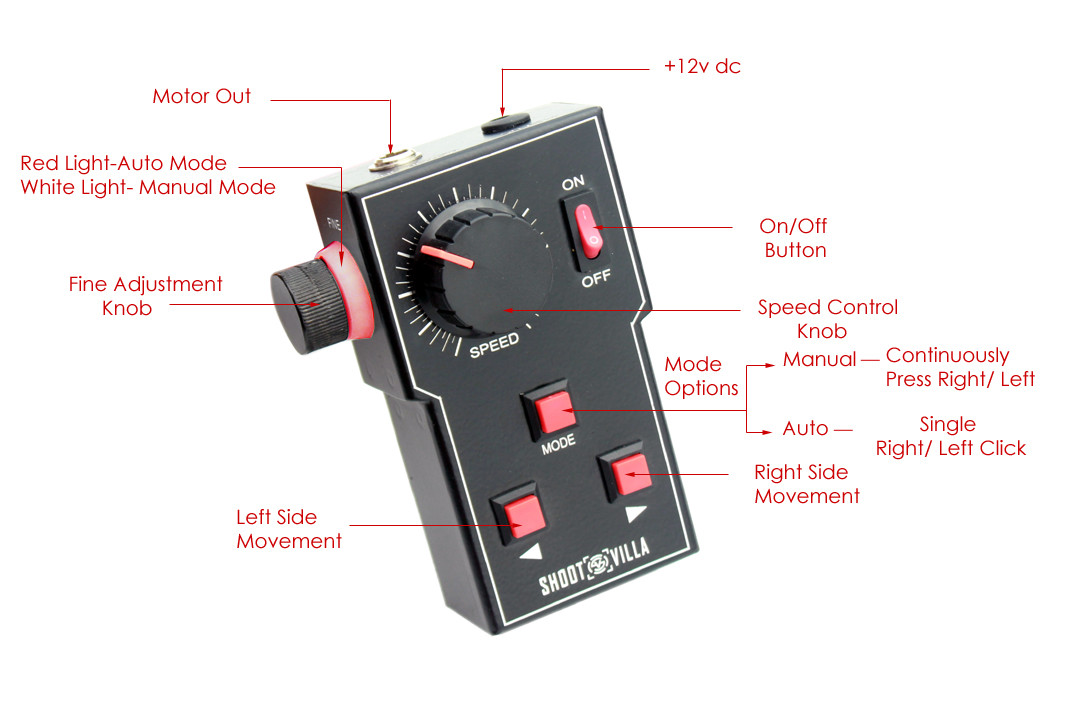 REMOTE CONTROLLER: 
The controller provides complete control over movements; you can achieve precise camera movements for interviews, establishing shots, and other shooting areas. There are two MODES Auto mode and manual mode. In auto mode it work in the direction till we keep on pressing the button while in auto mode it works automatically and red light glows at the side. Also SPECIAL FEATURE OF FINE ADJUSTMENT IS ADDED FOR FINE SLIDING JERK FREE OPERATION.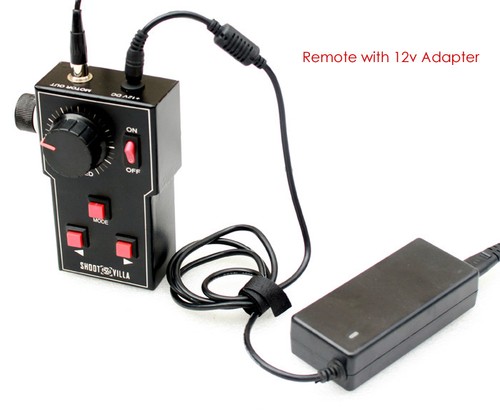 ADJUSTABLE LEGS
 Easily removable adjustable legs with easy knob locking, joints helps you level the slider on rough and uneven surfaces also.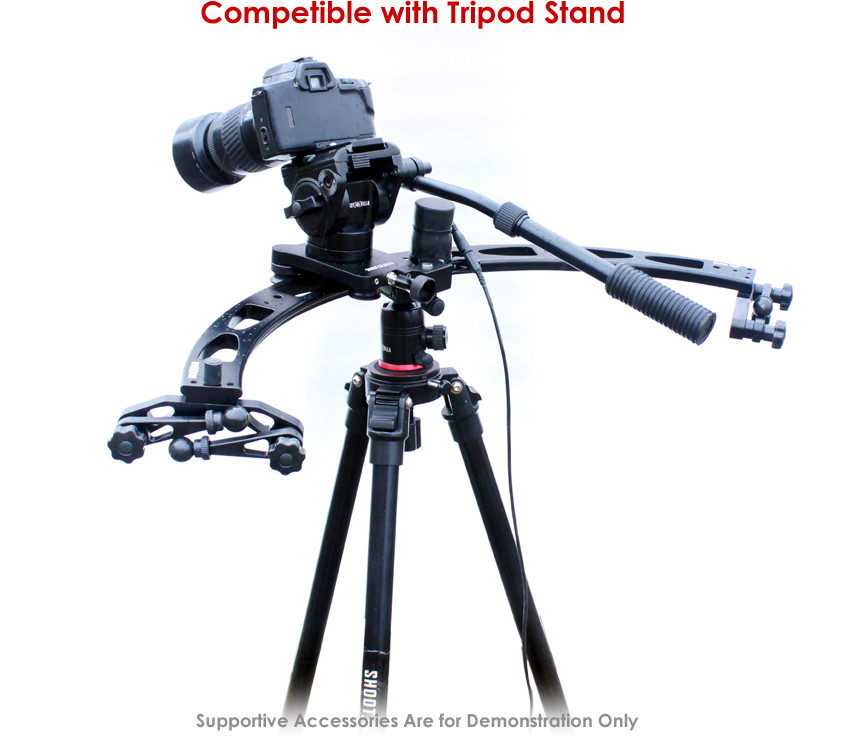 PACKING
Good Quality bag (free) with foam packing inside to give you protective and safe storage.
GUARANTEED PRODUCTS
Assuring you 100% money back guarantee.
We will try to give our best to our clients.
Your feedback suggestions are very necessary for us so that we can further improve our efficiency skills and service.